TSN speaks at D.C.'s Whistleblower Summit & Film Festival
On Friday, July 28, The Signals Network (TSN) participated in the opening plenary of the 11th annual Whistleblower Summit & Film Festival on Capitol Hill. The festival celebrates whistleblowers through their fascinating — and often very difficult — stories.
This year's summit theme was "Seeking The Truth—60 Years After the JFK Assassination," and featured Watergate-era journalists and advocates.
Presenting at the plenary were TSN Director of Operations Rebecca Petras; Theranos whistleblower Erika Cheung; Andrew Kreig, founder of the Justice Integrity Project; Shanna Devine, Director of the Office of the Whistleblower Ombuds; and summit co-founders Michael McCray and Marcel Reid.
During the event, Cheung reflected on her years-long whistleblowing journey and those who helped her, including other whistleblowers and TSN.
Cheung was one of the key whistleblowers in the 2015 Theranos scandal. She blew the whistle to The Wall Street Journal and regulators to stop the blood-sampling company from processing patient samples with faulty technology.
Recently, Cheung had to prepare to testify at the federal trial against Elizabeth Holmes, the founder of Theranos, in September 2021. The stress of waiting to testify damaged her finances, her career and her personal life.
"That was a very dark period in my life," she said. "This sort of arrested development of really wanting to move forward with my life but being unable to because I had to testify at this trial and remember something that happened to me eight years ago."
What helped her get through the depression, confusion and anxiety, she said, was hearing the stories of other whistleblowers.
She also credited TSN, who she partnered with during the trial. She first blew the whistle in her early 20s and, before testifying at the trial, had not worked with a lawyer, she said. But when she called TSN, the organization was quickly able to connect her with the American Civil Liberties Union, which gave her legal advice when she needed it.
Cheung was followed by Petras, TSN's Director of Operations, who spoke about the multi-stage complexities of whistleblower support.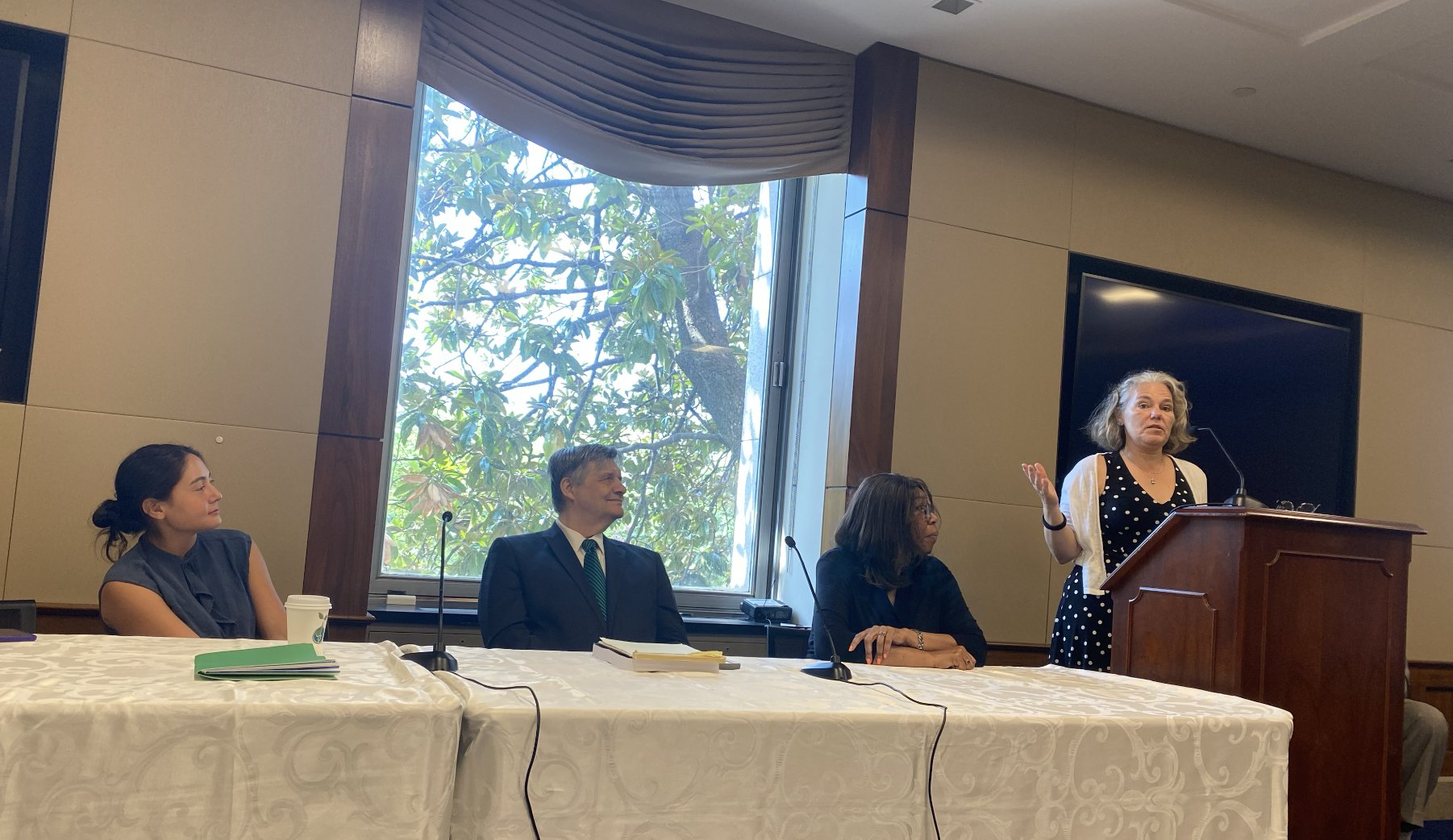 TSN mainly works with whistleblowers who decide to go to the press to reveal their revelations, Petras explained. TSN never encourages an individual to blow the whistle.
"That's a really big decision," she said. "The other part of that is: 'Am I going to do it anonymously? Or am I going to do it publicly?' We work with both."
Going pubic brings with it a host of difficult issues. The whistleblower is working with a journalist who also wants to hold power to account, but whose primary goal is to publish a story in order to do so. Sometimes the whistleblower can see the journalist-source relationship as a friendship. Maybe it is, but at the end of the day, the journalist's goal is to publish the story, Petras said.
"Once that's published, maybe there'll be some follow up, but maybe not," Petras said. "That's when the journey tends to get really hard."
Over and over again, she said, TSN finds that whistleblowers' lives fall apart after a story is published. TSN works with journalists to remind them that their source is a person who is facing extraordinary repercussions to help their investigation. Journalists cannot give whistleblowers direct support because that poses a conflict of interest; TSN fills that gap.
Every whistleblowers' journey is different, but whisteblowers often require legal, psychosocial, communications and career support during their journey, the trials of which can last for years. Some are unsure if they want to prolong that journey by advocating for policies that they believe would prevent further corruption in the industry they blew the whistle on.
"There are a ton of questions around, 'What is that next? How do I rebuild my life?'" she said. "We support that as well."
TSN is a 501(c)3 organization dedicated to supporting whistleblowers who risk their livelihoods to share public interest information with the press. Founded in 2017 by journalists, whistleblowers and lawyers, TSN operates internationally to hold powerful interests accountable. TSN provides customized support to a selected group of whistleblowers who have contributed to published reports of significant wrongdoing. This support may include legal, psychological, physical safety, temporary safe-housing, online safety, career support and communication support.
For journalist inquiries, email sarah@thesignalsnetwork.org.